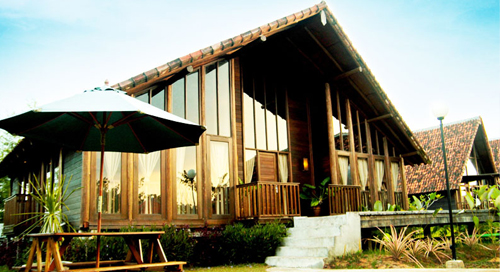 Gardenia Resort and Spa
A luxurious private Villa with an elegant and traditional feel-on wooden stilts just like an authentic Kalimantan House, complete with a raised walkaway - awaits you with serene atmosphere and gorgeous views of the surrounding gardens.
Located close to heart of Pontianak Gardenia Resort and Spa is the only true resort feel in the city of Equator Land. Its is only 5 Minutes by car from Supadio International Airport at Jalan.Ahmad Yani II, Pontianak Kalimantan Barat and 15Minutes from the city center.
Gardenia Resort and Spa offers 47 Suite Villas providing the ultimate in privacy and a totally unique experience, ranging from Premier, Terrace Suite, Family Suite and Gardenia Suite. Each Villas is design and outfitted with traditional decoration and has beautiful panoramic views. Stands on 4,3 hectares of land, You will find the accommodation peaceful and spacious with an architectural style that blends the traditional with contemporary.
Dining at Gardenia Resort and Spa is a culinary journey with a selection of Asian, Western and authentic Indonesian favourites tempting you at Papyrus Restaurant . For relaxation, traditional style spa facilities at Aruna Spa offer the ultimate indulgence and tranquillity spa experience as your perfect choice.
Experience the diversity of Pontianak by pairing your visit with a stay at Gardenia Resort and Spa, an intimate suburban retreat for you, friends and family.